In my humble opinion, being natural players make KOJI The Planet Stoned Plus phenomenal! I watched their videos and appreciate the unique style, riffs and bass lines exploding right through their veins, which communicate straight to the listener with no bullsh*t! This is their enigmatic appeal. I'm especially caught by the whammy skills and smoking bass of the song MUSTANG as it hits the fast lane! I invited the duo, KOJI & YUMIKO, to choose to answer from my list of prepped musical questions, which I am excited to share with you:

Briefly introduce your band:

KOJI: Doing Depressive Junk ROCK

Share your favorite quote or epiphany as a musician:

KOJI: Every fellow die some day.

- Indeed! The thought of it is also motivates me to do as much as I can. :) -- Ann
How do you organize your thoughts and come up with great tracks?

KOJI: Our tracks are far from GREAT. Anyway Just do what we wanna do.

What exactly do you like about making music?

KOJI: Making truck is toucher even those are simple Rock n' roll.

What are your band's favorite musical instruments?

KOJI: YUMIKO's Bass Guitar and KOJI's Tabla

YUMIKO: I love the selfishness of Gibson Thunderbird.

If you are not doing music, what are your other interesting diversions?

YUMIKO: Drawing and trip all around the world.

KOJI: Socially withdrawal.

If your band goes to Mars and is only allowed to bring 20 musical selections to play and nothing else, who would those artists be?

KOJI: J.S Bach Matthäus-Passion

What would you tell your favorite band/artist if you happen to meet one day?

KOJI: Just say Hello

If by chance, who would be that one band or artist you would like to jam with and why?

KOJI: I don't know why but with King Tubby.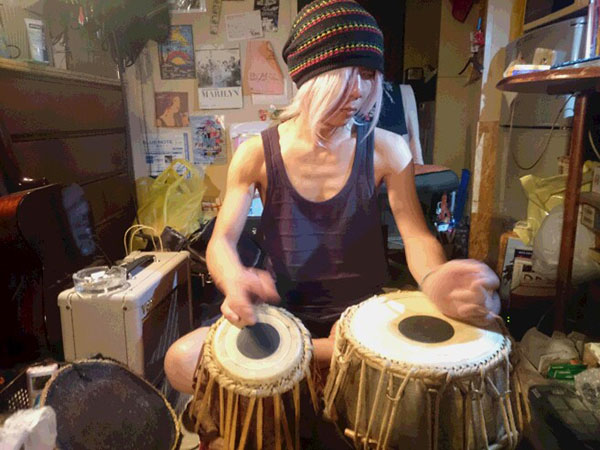 What is HOT music to you?

KOJI: Naturally makes us shake our body.

What is your most memorable experience as a band?

YUMIKO: KOJI is totally fucked up at stage of EMERGENZA JAPAN. A worldwide band contest called EMERGENZA. KOJI was blown away by a bad phone call just before the stage. There was also an acoustic problem. Skipping tracks, muting guitar, not hearing tracks. But for some reason we got the support of a lot of audience and passed the qualifying in 1st place. KOJI doesn't remember that time. I was tired and slept all day. Conversely, this day can be said to be the most interesting experience.

Which of your tracks is the most innovative or experimental? Why so?

KOJI: We don't think that our tracks are so called innovative.

YUMIKO: "Wrist Cutter Angel." I made a Bass track and gave it to KOJI. When I listened to the finished mix, I was surprised to hear that it was not the Bass I had played. The file I sent was a corrupted sound source by some mistake. But KOJI liked the take and adopted it. The guitar played just right, the lyrics in Japanese, the unstable Bass... I
like it very much. It was very experimental for me. Lol!

If you could turn back the clock, which musical year/decade would you choose? Explain.

KOJI: Late 60s' cause music still got power in those days

Name your top 3 most influential musical figures of all time?

KOJI: J.S Bach

YUMIKO: Yumi Arai

Name your top 3 most favorite tracks from your discography.

YUMIKO: When I heard KOJI's song for the first time at a gig by myself, I liked it right away. I remember that time.

A Night Walker
Mustang
Black Painted Beastie Bell

-o0o-
Visit KOJI The Planet Stoned Plus' Official Webpage: https://www.kojiplanet.com/