The Golden Mantis serenades a listener with hauntingly nostalgic, melodic masterpieces that linger deep within. The duo did such profound themes and carefully composed verses, delving way beyond the composer's heart and soul, leading straight into a unique blend of teamwork and musicianship. Their tracks express a powerful message, topped by enigmatic vocal harmony, catchy intros, and sequential melodies that resolve smoothly. Expect a lot of goosebumps while listening! Check out "Zeit" (Time), which is my top fav pick. The Golden Mantis is a golden gem of Indiedom! In response to my invitation, the kind-hearted Roger agreed to answer some of my prepped musical questions, which I am glad to share with you:

Briefly introduce your band:

The Golden Mantis are the Mannheim musicians Silvia Subosco and Roger Münzenmayer.

The independent duo has been producing English and German language albums since 2019.

So far, the band has released four albums/EPs. The debut "The Golden Mantis" was released in April 2020, the second album "Zeit" with exclusively German-language songs in September 2020, followed by "Yesterdays News" in March 2021. "Tomorrowland" is the name of the current EP (2022).

Golden Mantis songs are a unique melange. Classic singer/songwriter meets indie rock, darkfolk, chanson and 80's new wave. The band's sound is carried by the unmistakable soft and deep voice of Silvia Subosco, her extraordinary melodic line and a melancholic basic mood. All songs are written, composed, arranged and produced by her and Roger Münzenmayer.

Share your favorite quote or epiphany as a group.

We love simple, emotional music.

How do you organize your thoughts as a band and come up with great tracks?

This is relatively simple. Silvia writes all the lyrics. Since we know each other for a long time, I instinctively know what she wants to achieve musically and what mood the corresponding music needs. So we come quite quickly to a good song.

What exactly do you like about making music?

It is always terrific when you play together with other musicians and notice how something completely new emerges from several individual instruments. The unifying power of music is unique.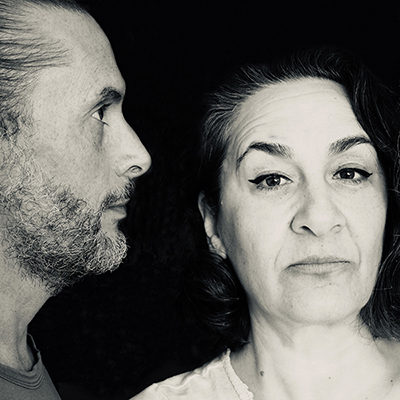 Who is the musician or band you could be best associated with the most?

For me, definitely Nick Cave & the Bad Seeds. The dark, atmospheric songs and the dynamics of the band is incomparable.

Oh, indeed! Your themes and songs do have resemblance with Nick Cave, in a unique way, of course! - Ann
If you are not into music, what are your other interesting diversions?

We are big movie fans and our dream is to make a film score one day. By the way, our favorite movie is "The Big Lebowski".

If by chance, who would be that one band or artist you would like to jam with and why?

Paul McCartney, he's just a genius in terms of songwriting. I would be really interested to know how he works.

What is your most memorable experience as a band?

To play in front of 15,000 people.

What is your funniest experience as a band?

To play in front of 3 people.

If you could turn back the clock, which musical year/decade would you
choose?

I found the early punk and new wave era of the late 1970s great and inspiring.

Simple song structures with a lot of emotion have always appealed to me.

Name your top 3 most influential musical figures of all time?

I think it's David Bowie, The Beatles and Nick Cave.


More from The Golden Mantis:

Website: https://golden-mantis.jimdosite.com/

Bandcamp: www.thegoldenmantis.bandcamp.com

Facebook: www.facebook.com/thegoldenmantis

Instagram: www.instagram.com/the_golden_mantis

Twitter: www.twitter.com/golden_mantis

YouTube: https://www.youtube.com/channel/UC40-beBRw5ZGPmcjCZeJ2Og

Spotify: https://open.spotify.com/artist/2qFQXY8gVFLYn2sPRAuEq4

YouTube Music: https://music.youtube.com/channel/UCGyfmnP6xqllb9RmsxXeerw


-o0o-
Visit The Golden Mantis' Official Webpage:
https://golden-mantis.jimdosite.com/