Gib is a talented musician of action and a very modest multi-instrumentalist! He has produced quality tracks faster than anyone known to me in the Indiedom, bearing a strong principle to accomplish tasks without any delay. His distinct instrumentation style fits the mainstream cinematic ambience. He produces rich sound designs, with themes that are, at times, dark and mysterious. Upon my invitation, Gib agreed to answer some from my list of prepped musical questions, which I am excited to share with you:

Briefly introduce yourself:

"Hello, I'm a solo Artist, Gib (pronounced Jib) from the U.K. currently living in rural Sussex which is 30 miles south of London.

I do instrumentals in many genres but mainly Alternative Rock, Indie, Experimental, Soundtrack and Electronica.

I've released numerous albums and E.P's which are available on all platforms. I release on average around 100 tracks a year. More since Covid and the numerous Lockdowns."

Share your favorite quote or epiphany as a musician.

" 'Don't talk about it. Do it' - Do It - The Pink Fairies + Rollins Band

'When you start to doubt yourself the real world will eat you alive...It's time to shine' Shine - Rollins Band

'Life is too short to be miserable!' - Devin Townsend

'It's better to regret something you have done then something you haven't done' - The Butthole Surfers"

How do you organize your thoughts and come up with great tracks?

"Sometimes I have a clear idea of what I want to write like the album Secrets, with titles like Secrets, Lies, Smoke, Mirrors which was influenced by the American election campaign, British politics and big corporations avoiding paying taxes.

The track Justice from the Exploration E.P. was as a result of the George Floyd and Black Lives Matter protests.

It was a very volatile time worldwide.

Most of the time the music and the feel of the track will suggest the title.

The album Introspection was a loose concept album to do with Covid before, during and after which is evident if you go through the titles.

I write very quickly and usually have the track written in 3 hours and then a couple more hours for lead riffs and tweaking.

I tend to mainly write on the keyboards at the moment and usually start with a chord or sound or riff which I will develop, add drums, bass and extra sounds and instruments and riffs.

99% of my tracks even though they are instrumentals are written in the traditional song format of intro, verse, chorus etc.

I may well go back to doing vocals again but enjoy the freedom that instrumentals offer at the moment."

What exactly do you like about making music?

"I love the blank canvas with music. You can do any emotion, as simple or complex as you want. Explore and push yourself, experiment and surprise yourself with a new melody, chord sequence, riff, drum beat or sound. There are no boundaries to stop your imagination and with instrumentals there is no rigid channeling of what this piece of music is about. It can go and travel and transport you with it to some different place and emotional instant moment.

Making music has always been about escapism for me. Leaving this reality behind. It can be an emotional release, a physical freedom without moving, a journey to somewhere new.

Great music should make you feel. It should make you be moved. It should enliven you and make you tingle and awake the senses.

I still love that moment when everything just flows and whatever you come up with works and it enhances the track even more.
That is the magic that makes me not just like making music, but LOVE making music."

What instrument/s do you play?

"I play bass, guitar, piano and harmonica but mainly use keyboards and synthesizers. Everything is played by hand and not just done on a laptop or a workstation which increasingly seems to be how more and more music is being created.

I have numerous notebooks with all the notes and the chords written down.

I can't read music but have enough written down in the note books that I can play a track back on a piano or guitar.

In the past I have used samplers, effect units, guitar pedals and generated sounds to create sonic landscapes.

I have boxes of cassette tapes of songs, jams, experiments and gold dust and rubbish. The past is gone and the future beckons and has new rewards.

Everything is a learning curve that propels you forward."

What or who made you pick up and learn your favorite musical instrument/s?

"My late brother Paul was the person who kick started my interest in music and got me my first bass guitar when I was 12.

A 3/4 size Satellite bass. Huge thick strings and white! He decided that he was going to play guitar and I was going to play bass and we were going to be the Gib and Eric Experience.

A play on the Jimi Hendrix Experience. He nick named me Gib (my name is Giles) after a school boating holiday... how a Jib mast translated into Gib, his brother I don't know. He was Eric after Eric the Viking (He had a weird hair cut which people remarked made him look like a viking).

I learnt how to play bass plugging it into my stereo and playing along with Jimi Hendrix, various Psychobilly groups (The Cramps, The Meteors ...my brothers music) and much later Black Sabbath, Killing Joke and whatever else I could work out and play along with.

That feeling of pretending that you were playing live in front of a huge audience on the live version of Black Sabbath by Sabbath because you'd cracked how to play it was immense and a real buzz mid teens!

We played in various bands together until my early 20's. Our first gig when I was 16 we played 5 Killing Joke covers and one of our own tracks. Our singer dressed as Jesus with a sheet as a tunic and a crown of thorns. Strange but interesting times!

Whichever band I was in there was always someone who left and any momentum gained was lost. The situation repeated constantly and I got more and more disillusioned with how much time I was wasting joining bands and learning new material only for them to implode.

As a bass player you don't tend to write a lot of material for the band. I was writing and developing solo with guitars and keyboards which was very rewarding but I always took a back seat for whichever ego was in control of his band. I think the final straw was spending months learning and practicing with a bands last CD for a series of gigs as support for the metal band Cradle Of Filth only for the guitarist to not be able to remember how to play his own songs.

The gigs never happened and I've never worked with other musicians since.

To quote David Bowie 'Hold onto nothing and it won't let you down' "

- It's a great experience when you had this life's turning point and discover that you have the power to do music on your own! -- Ann
Which of your tracks is the most innovative or experimental? Why so?

"The track 'Endless' was a break through track for me as through experimentation with pitch bends, delays, space and pounding drums I'd really gone out of my comfort zone and broken new ground. To listen to it, you'd say that's alright. I'm happy to say that I have quite a few break though tracks which may have bridged a new style or technical lesson. The tracks Numbing (one of my most successful), Sylvie and Enter have also been good break through tracks with styles of playing and song structure.

I've done a couple of 10 minute progressive rock tracks (2B3 and Why?) but they haven't had the personal impact of that moment of revelation."

If you go to Mars and are only allowed to bring 20 musical selections to play and nothing else, who would those artists be?

"1. Rollins Band - The End Of Silence
2. Yes - Close To The Edge
3. Devin Townsend - Ocean Machine
4. Curtis Mayfield - Superfly
5. Killing Joke - Extremities
6. Billie Holliday - Greatest Hits
7. Kraftwerk - Computer World
8. Prince - Purple Rain
9. Jean Michel Jarre - Equinox
10. Slayer - Reign In Blood
11. Metallica - Master Of Puppets
12. Spiritualized - Ladies And Gentleman We Are Floating In Space
13. Mercury Rev - See You On The Other Side
14. Ultramarine - Every Man And Woman Is A Star
15. Siouxsie And The Banshees - Juju
16. Ween - Chocolate And Cheese
17. Isaac Hayes - Live from the Sahara Tahoe
18. Iron Maiden - Live After Death
19. Dead Can Dance - In The Realms Of A Dying Sun
20. Gorecki - Symphony For Sorrowful Souls

Could choose a different 20 tomorrow!"

- What a cool reference! -- Ann
What is HOT music to you?

"Hot music is what moves me, brings me to tears, makes me giddy with joy and emotion or makes me wish I'd done that.

All the 'hot' musicians I've loved recently either aren't on Twitter but I have discovered them through Twitter playlists or are on Twitter but no Spotify listeners and minimal Twitter followers.

All the well known artists we all follow and have had numerous mentions here already in previous Q and A's.

Marcelo Camela - Great Mexican guitarist...mind blowing talent ...33 listeners

Pandaux - Fantastic electronic artist from Brighton U.K.... 7 Listeners

Mike Allen - American - Check out the track Parallels... 4 listeners... dark emotional music

It's criminal that these artists have more talent and vision in their little fingers than lots of huge artists out there."

Who is the musician you could be best associated with the most?

"At a push it would be someone like Moby! Does punk and metal, acoustic and dance, soundtrack and pop. I'm a solo artist who does various styles.

Saw him live 20 years ago and great energy and attitude."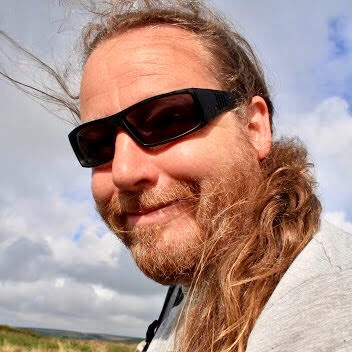 If by chance, who would be that one band or artist you would like to jam with and why?

"I absolutely love the bass player from Rollins Band Andrew Weiss's bass playing and sound. I'd love to hear what he'd bring to a jam session now as he's a producer.

Best sonic landscape bassist and technically brilliant bassist I've ever seen and heard."

What would you tell your favorite band/artist if you happen to meet one day?

"I've hung out with Killing Joke a few times and everyone is human and down to earth. Wasn't phased or awe struck.

With anything in life lose the fear and life is easier."

If you are not making music, what are your other interesting diversions?

"I'm a keen gardener and home beer brewer. I'm also into visiting historic castles and houses."

What is your most memorable experience as a musician?

"Playing a gig to a hall full of special needs and Down Syndrome adults at Christmas. The sheer fun and buzz they got from it was fantastic."

Have you done interesting, weird quirks in the name of the music?

"Other than playing to and for special needs adults...very rewarding."

If you could turn back the clock, which musical year/decade would you choose? Explain.

"70's. Before synths and auto tune when musicianship was everything. Everyone worked and played harder. Better musicians. Minus the drugs of course!"

Name your top 3 most influential musical figures of all time?

"Chris Squire - Yes Bassist...wrote loads of great tracks, magnificent master class bass player and could sing whislst playing!

Andrew Weiss - Rollins Band bass player..listen to The End Of Silence album and the sonic textures he created

Jean Michel Jarre... The early stuff was so complex and mind blowing ...an innovative talent who hasn't stopped developing"

Name your top 3 most favorite tracks from your discography.

"Numbing... from deep grief and loss came something beautiful

Windows To The Soul... Dark and full of beautiful menace

Used Up.... Climate change has killed the planet."

BONUS Q:
What one word best describes you as a musician?

"Eclectic!"

Add your own interesting question (and answer it): Would your ancestors be proud of how you lived your life and your devotion to your music?

"I think they would. I've always worked hard and never sponged off the state and my belief in creating beauty when my life is crap is something that is admirable because I can show I've pulled a diamond from the rubbish."

-o0o-