The voice of a heartthrob is Byron Smith, a multi-instrumentalist songwriter. His thoughtful lyrics resonate well with the listeners because they evoke heartfelt emotions like resolving relationship conflicts or rumination of inner thoughts. You'll hear words that are far from the sycophantic message of typical songs nowadays. His arrangements start mellow, progressing to rock mode, in the 'Alternative' flair. His strong presence in the Indiedom results from solid musical skills, talent, and experience in the industry. Byron accepted my invitation to answer some from my list of musical questions, which I am excited to share with you:

Briefly introduce yourself:

"Hi Ann, and thanks for this opportunity. I'm an independent singer, songwriter and multi-instrumentalist from Melbourne, Australia. I used to play guitar in a bunch of Melbourne bands in the 80s, and only really started my solo recording career early in 2020. Since then, I've released eight singles, some of which have had lots of spins on Spotify and Apple, which is nice."

- You're welcome, Byron! -- Ann
Share your favorite quote or epiphany as a musician:

"'I'm just someone on the spectrum, with a plectrum.' (The opening line from my song 'Unhappy Accident')"

How do you organize your thoughts and come up with great tracks?

"It's a bit of a random/organic process for me. Songs usually begin with me just goofing around on my acoustic guitar and singing along until I stumble on a melody and chord combo that I feel sounds ok.

The lyrics usually start as just nonsense words, which I then replace with something I really want to say. I'm always writing down lyric ideas (or voice-recording them on my phone) and this often leads to a song theme or title, which I then work on over time.

The melody and lyrics tend to change and evolve a lot during the writing stage, and even during recording…actually, sometimes even after recording, which can be annoying! It's quite a long process for me, but quite satisfying in the end."

What exactly do you like about making music?

"The creative process is magical: starting with nothing and finishing with something. It's fun, cathartic and therapeutic. I also like the idea that some people might find my words relatable, and that this might help them feel a little less alone."

What instrument/s do you play?

"My main instruments are acoustic and electric guitar. I also play keyboards, bass and sing all the lead and harmony vocals. I had a guest (Jeff Jacobs from the band Foreigner) play piano on my recent single 'Be Brave'. I record everything at home in my lounge-room studio, and send it to my friend Bryan Daste in Portland, Oregon for final mixing and mastering – a process with which I stay very much involved as we send various mix versions back and forth across the world."

What or who made you pick up and learn your favorite musical instrument/s?

"My older brother played guitar and around the age of five, I started sneaking into his room and strumming away madly on it, usually with no hand on the fretboard. I was very much into the idea of playing guitar and being in a band, even at that age."

Which of your tracks is the most innovative or experimental, and why so?

"I'd have to say my song 'Clusterf**k', which obviously has a pretty ...err… unusual title, and also includes some pretty layered instrumentation and voice samples."

If you go to Mars and are only allowed to bring 20 musical selections to play and nothing else, who would those artists be?

"My influences are pretty diverse and the 'Must-have on Mars' playlist selections would be very difficult to narrow down. They would surely include Nick Cave and the Bad Seeds, Pink Floyd, Wilco, Echo and the Bunnymen, Donny Hathaway, Pixies, The Beatles, Neil Young, The Church, Neil Finn, Elvis, Johnny Cash, Radiohead, Cracker, Jeff Buckley and Matthew Sweet… shall I go on?!"

What is HOT music to you?

"Anything that comes from the heart and evokes an emotional response."

If by chance, who would be that one band or artist you would like to jam
with and why?

"My all-time favourite artist is Nick Cave, who is also from Melbourne, and writes around intelligent, thought-provoking themes and performs his songs with breathtaking musicality and a remarkable vocal presence. He has an incredible work ethic and output, with an unfathomable back-catalogue of amazing work. He is also a remarkably charismatic live performer. I'd love to jam with him, but I think I'd be so intimidated by his talent that my guitar-fingers would turn into half-cooked hot chips."

- I checked out Nick Cave - OMG! You got some resemblance to his vox! -- Ann
What would you tell your favorite band/artist if you happen to meet one
day?

"Thanks for the music!"

If you are not making music, what are your other interesting diversions?

"A favourite hobby of mine is photography. I like exploring the shapes and colours of the urban landscape, and in addition to my music Instagram page (@byronsmithmusic) I have a personal Instagram page (@fuzzybyron) with more than 3,500 photographs – mostly taken in and around my hometown of Melbourne. I also like to play golf and walk my little dog Bella, who is my constant studio companion and toughest critic – which is why she stars on the home page of my website: https://www.byronsmithmusic.com"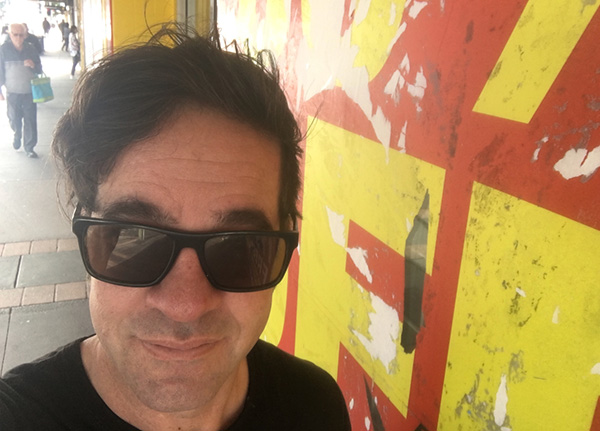 What is your most memorable experience as a musician?

"I've had many, but I'd have to say that the best was when Dave Gilmour asked to use my guitar and amp rig. True story. I was playing in a jam band called The Party Animals at Melbourne's Corner Hotel. Pink Floyd was in town for shows and a few members, including Dave Gilmour, drummer Nick Mason, the sax player, and their backing singers showed up unexpectedly, along with a wonderful blues guitarist called Roy Buchannan. They thought it would be fun to have a live jam, and they ended up playing a set of incredible R&B standards and it was amazing… and quite a thrill to see Dave Gilmour playing my guitar!"

- Let me guess: you took time to dust off that guitar after the instance! XD -- Ann
Have you done interesting, weird quirks in the name of the music?

"My voice samples on my song 'Clusterf**k' are actually from the US Dstreet radio show when they reviewed my song 'Unhappy Accident'. They had a panel of three guys reviewing songs, including that one. The first guy who reviewed it said: "I guess the song is okay, if you're into depressing shit", lol. They went on to give it a really well considered review and, in the end, they actually decided they actually liked the song a lot and gave it a four out of five, which was nice!"

Name your top 3 most influential musical figures of all time?

"Nick Cave
Dave Gilmour
Jeff Buckley"

Name your top 3 most favorite tracks from your discography.

"1. Unhappy Accident

This was one of the first songs I put out. I recorded this song in one night, gave it a quick mix and uploaded it to Spotify the next day. I didn't even know about mastering or anything like that – it was all very raw and spontaneous. I'm sure mixing purists could find all kinds of faults with the recording, but I think it captured a certain vibe. It's actually been my most successful song so far, and has had more than 100,000 spins on Spotify, which is very pleasing. The music video, which I made myself, features a toddler crawling on the road which, understandably, seems to make people feel a bit nervous, but I can assure you that no children were harmed in the making of the clip.

2. In Your Eyes

"This song is about the feelings that come when you realise the love of your life is falling out of love with you. I kind of like the way this sad sentiment is juxtaposed with an upbeat pop sensibility. It was lots of fun doing the layered 'call and response' harmonies at the end of the song, which have a kind of retro feel."

3. Clusterf**k

I guess I always knew this song was never going to receive much airplay (for obvious reasons), but this was part of the appeal for me – saying something I wanted to say, knowing there was no commercial intent. It's a pretty sarcastic song about the never-ending obstacles we all face in life. Coincidentally, while I as in the process of making the music video for the song, I was banned from Twitter, losing about 6,000 followers. This led me to include a news-style tickertape at the bottom of the video, mentioning the Twitter ban, which happened to fit the message of the song perfectly. I'm happy to say that my Twitter account was later reinstated, including all my followers, thanks to a #freebyronsmith campaign run by a bunch of my friends on the platform. I'm very grateful to those people. The indie Twitter community is amazingly supportive and fun!"

BONUS Q:

What one word best describes you as a musician?

"Evolving."

What is something we might not know about you?

"In the 1980s, while I was playing in bands, I was also a staff writer for national Australian music magazine 'Juke' for five years. It was lots of fun and gave me some fabulous memories and insights into the minds and machinations of stacks of fabulous touring artists, from Dave Gilmour, Pete Gabriel and Mick Jagger, to David Lee Roth and John Bon Jovi."

-o0o-
Visit Byron Smith's Webpage:
https://www.byronsmithmusic.com